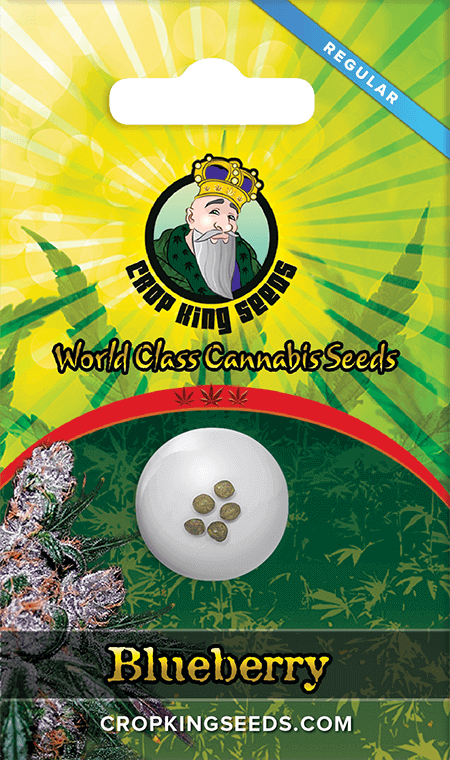 Blueberry Regular Seeds
$40.00 – $140.00
Are you searching for an enjoyable and classy cannabis strain that is known for its taste? If so, the Blueberry Regular strain is a good weed variety that you can take into consideration. Repeat customers typically germinate multiple Blueberry seeds, allowing them to look for a special mother plant which are really easy to get some cuttings from. This strain is expected to yield well, and is often liked by those who are searching for a strain that can give a relaxing, special, and well refined high. Growing Blueberry weed regular strain is also quite easy, which means that even if you are a beginner, this strain will certainly work its wonders for you!
Pack Size
Price
Quantity

5 Seeds Pack

$

40.00

10 Seeds Pack

$

70.00

25 Seeds Pack

$

140.00
Description
Characteristics
Reviews (2)
Description
Origin of Blueberry Regular
The Blueberry strain has a legendary status, making itself an A-Lister. It rightfully claimed the High Times' Cannabis Cup in 2000 under the category for Best Indica. The history of this exotic strain can be traced back to the latter part of the 1970s. It is a three way cross between a strong Indica Afghani parent, along with a Purple Thai and Sativa Thai parents. Throughout the years, the cultivation of this breed has been passed around, with a number of breeders trying to create their own variety. This strain may be grown from seeds, or as a clone, especially if the clippings come from healthy and mature plants.
Effects of Blueberry Regular
The effect of Blueberry Regular is just unbeatable, which is not really surprising, given this strain's popularity in this cannabis world. This means that it is a must-have strain for both medical and recreational marijuana users because it has something to give to everyone. This strain is also often described as a strain that gives a "one hit and quit" feeling. You can feel a quick strike of physical heaviness which can become disorienting at times. In a relaxed setting, however, the physical feeling can mean a therapeutic calmness, which enables users to unwind after a stressful day at work.
Medical Uses of Blueberry Regular
Medical marijuana users use Blueberry Regular because of its pain relieving and relaxation properties. As a result, this strain has made it among the most commonly used, and popular medical marijuana strains. Blueberry Regular is an amazing choice for cannabis lovers who need a relief from stress, as well as pain in different areas of the body. The effect that you can expect from this strain is unparalleled. This means that aside from just a simple recreational marijuana strain, it is also an ideal medical marijuana variety because of the properties that it offers to everyone.
Taste and Aroma of Blueberry Regular
Blueberry Regular is a classic strain, being a former winner in the Cannabis Cup. As an indica strain, you can expect a colorful fan of leaves, arrayed with some purplish bud which is the reason why it has a fruity flavor and taste. A fruity and sweet blueberry taste and aroma was the reason why Blueberry became a legend in the cannabis world. With frosty and dense buds, along with intermodal spacing can become elongated during bloom phase, with this strain producing a lot of tight flower clusters, instead of long-running colas.
Growing Blueberry Regular
Growing Blueberry Regular is quite an easy endeavor. The variety itself is easy, though it can be a selective feeder. What you can expect, though, is that the payoffs for all your investments and efforts involve high yield harvests of high quality and tasty buds. Since these are regular seeds, all of the seeds are combination of both genders. As you grow them, the males still need to be separated so that they do not end up pollinating the females. This should be done the moment they start growing. Telling the difference between female and male plants is quite easy. When the plants begin the flower, the males will also start to produce some pre flowers which come in "ball" shape, while the females will also produce pre flowers which come in "pistil" shapes.
| Breeder/Seed Bank | CropKingSeeds |
| --- | --- |
| Type | Indoor |
| Growing | Easy to Moderate |
| Ernst Handel | Roland Mendel |
| Island Trading | Helen Bennett |
| Laughing Bacchus Winecellars | Yoshi Tannamuri |
| Magazzini Alimentari Riuniti | Giovanni Rovelli |