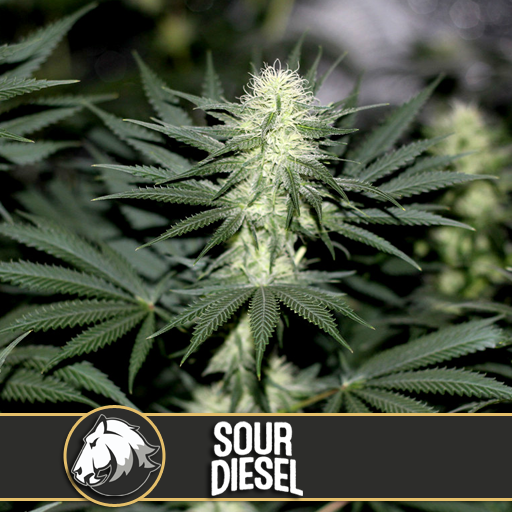 Sour Diesel Feminized Seeds
$35.00 – $85.00
Be prepared to take a trip to another plane of existence with the help of Sour Diesel. Also known as the "Top Cash Crop Strain," this extra dank weed is ideal for anyone looking to take a psychedelic trip having to deal with couch locks. You'll have additional energy to go about your business but sights, sounds, and sometimes even smells may take another form of reality.
Enter a room with the Sour Diesel plant and prepare yourself for its pungent presence. It strongly reeks of fuel that any lover of the smell of burning engines will immediately fall in love with this bud. This cannabis strain already earned its reputation to loyal marijuana fans around the world thanks to its ability to provide strong mental and physical effects with no worry of couch locks. It's guaranteed to bring good vibrations throughout the duration of its highs.
Also commonly known as Sour D, make no mistake as this notoriously fast-acting Sativa-dominant cannabis strain will make you see and feel things. This cross between the Chemdawg, NL, and Skunk strains will surely make you come back for more.
Pack Size
Price
Quantity

3 Seeds Pack

$

35.00

9 Seeds Pack

$

85.00
Description
CHARACTERISTICS
VIDEO
Reviews (1)
Description
The Sour Diesel cannabis strain presents energizing and positive highs to anyone who consumes it. The bud delivers fast and long-lasting highs which makes it easy to see why it's quite popular in many locations including the United States. Sour D already inspired many breeders to spawn other popular and tasty strains such as Sour Jack and Sour Tsunami. Anyone seeking to liven up any conversation may seek the assistance of this weed.
Still, it doesn't mean that Sour Diesel isn't useful for some alone time. The combination of physical and mental effects makes it a flexible and versatile choice for many marijuana users.
This marijuana plant is an extremely popular strain throughout many cannabis communities. It's highly distinguishable from afar thanks to its strong fuel-like chemical smell emanating from its flowers. The mostly Sativa strain offers subtly physical relaxation effects thanks to its Indica genetics to make it an ideal choice for recreational use. Growers looking to buy their Sour Diesel seeds may get them at Blimburn Seeds.
Origin Of Sour Diesel
The exact origins of the Sour Diesel strain are unknown. Even veterans in cannabis communities have trouble seeking out the true history of this weed. The main reason for the plant to be shrouded in mystery is because of the underground cannabis market back in the 1980s and 90s. During this time, most marijuana dealings operated without any form of long-lasting documentation.
However, there's a definite agreement among many marijuana users regarding this pot – it's genetic makeup. Albeit there's no concrete documentation to its exact heritage, many experts believe that Sour D comes from the cross between the Chemdawg, NL, and Skunk strains.
Effects Of Sour Diesel
Many veterans in the marijuana industry know of the popularity of the Sour Diesel strain. It's a great choice for recreational users, especially for those looking for a boost in energy and mood. Smoke this pot and users will almost immediately feel senses of unabashed euphoria. Some users even believe that this cannabis strain is the perfect companion to effectively and properly deal with depression and sadness.
It's the perfect pick me up to any sad day. This plant is a no-fail mood-booster with a natural ability to uplift spirits while giving psychedelic effects in the process. Some might say that it offers a purely cerebral experience but there are some hints of physical calming effects indicative of its Indica heritage. The long-lasting highs will take effect almost immediately and will sometimes last as long as five hours.
Medical Uses Of Sour Diesel
Thanks to the longevity of its highs, the Sour Diesel marijuana strain is a popular choice among recreational and medical users. Patients suffering from several forms of aches and pains may seek out this plant for that much-needed relief and treatment. Since it creates highs without any additional heaviness, Sour D is an ideal choice for daytime relief. Severe aches and pains will temporarily disappear from the system to help users bring about maximum productivity without worry of acquiring couch locks.
Since its effects are predominantly in forms of cerebral highs, Sour DIesel is great for treating slight-to-moderate symptoms of stress and depression. Furthermore, users suffering from arthritic conditions may also benefit from the use of this cannabis strain thanks to its anti-inflammatory properties.
Taste And Aroma Of Sour Diesel
Aside from its cerebral effects that don't produce couch locks, Sour Diesel is also famous among many cannabis communities thanks to its pungent aroma. Some novice consumers might even find its fragrance to be borderline stinky. The strong fuel smell is said to contain notes of sour lemon and citrus with a tiny mix of herbal scents.
As for its flavors, the slightly bitter citrus taste will linger inside mouths in the form of aftertastes for users. Many marijuana users find its taste a savory experience. The mixture of pungent aromas and bitter tastes deliver invigorating notes to any user.
Growing Sour Diesel
Marijuana growers will find the Sour Diesel plant to grow into a tall and fragrant bud. Make sure to place it in an environment with arid, hot, and dry climates. Also, ensure that there's low humidity in the area as well.
The use of a high-intensity lighting setup is a recommended option. Keep in mind that it's also essential to keep its growing environment as sterile as possible because the plant is relatively susceptible to powdery mildew. Once the mildew starts to form, it can be quite difficult to remove it. Interested marijuana growers who wish to cultivate Sour D should always keep a proactive mindset to keep this plant's surroundings as clean as possible.
| | |
| --- | --- |
| Breeder/Seed Bank | Blimburn Seeds |
| Type | Mostly Sativa |
| Growing | Indoor/Outdoor |
| Flowering Time | 70 to 75 days |
| Indica/Sativa | Sativa |
| Effect | Euphoric and psychedelic |
| THC | High |
| THC% | 25 percent |
| CBD | 0.20 percent |
| CBN | unknown |
| Country | unknown |
| Yield | 550 – 600 gr/m2 |
| Genetics | Chemdawg x NL x Skunk |
Sour Diesel Video