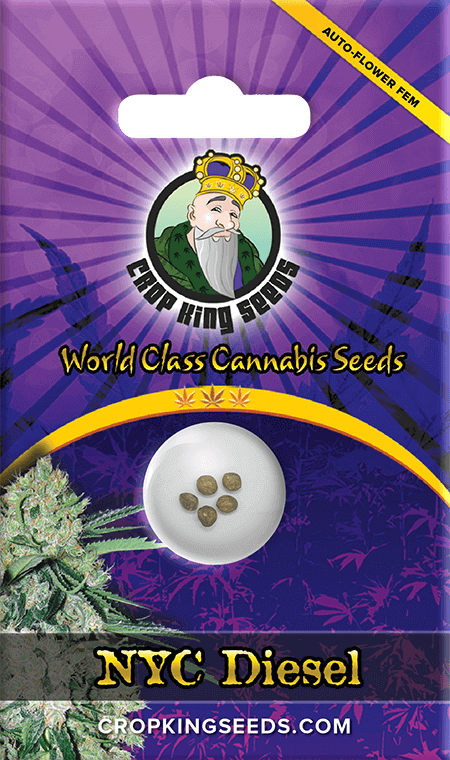 NYC Diesel Autoflower Seeds
$65.00 – $240.00
Up for a challenge with this sativa dominant strain? NYC Diesel Autoflower is a hybrid which is set up to give you that full-body, relaxing stone. With it's easy to grow promise, amazing plants, and pleasurable effects, you will never go wrong with purchasing NYC Diesel Autoflower seeds. Whether you are a user or a grower, you would definitely love growing these plants in your very own garden. What are you waiting for? Enjoy the relaxation offered to you by this strain with your intimate group of friends, gaining a lot from this awesome autoflowering strain. Choose from packs of 5, 10 and 25 seeds, and start growing now!
Pack Size
Price
Quantity

5 Seeds Pack

$

65.00

10 Seeds Pack

$

120.00

25 Seeds Pack

$

240.00
Description
Characteristics
Reviews (0)
Description
Origin of NYC Diesel Autoflower
The NYC Diesel Autoflower strain is a cross between two very popular, hardcore strains – Sour Diesel and Afghani. The NYC Diesel Autoflower strain inherited the unbelievable buzz and amazing potency that made its parents real legends. This makes this strain a legend in itself, even having its very own name and reputation. As it is sativa dominant option, you will definitely anticipate all the effects expected of this variety. This is a premium strain, which means that this variety has been around for quite a lot of time now, which is why it has already gained a pool of fans.
Effects of NYC Diesel Autoflower
Like a cross between two popular and strong strains, NYC Diesel Autoflower radiates the effects that you would want to expect given its lineage. The THC content level of this strain is at 14.33%, which means that it falls under the low to medium category in terms of THC percentage. Thanks to its roots, this variety is able to produce a soothing, calming and relaxing type of buzz which easily leaves your muscles and body feeling rested well, with your mind feeling refreshed and cool. This variety is considered as a premium strain, all thanks to the effects that it offers.
Medical Uses of NYC Diesel Autoflower
NYC Diesel Autoflower is also an ideal medical marijuana option for patients who are dealing with certain issues and conditions. With its low to medium THC content level, you can experience that especially soothing, calming and relaxing kind of buzz, thus leaving your body and muscles rested. This makes this strain perfect if you need to relax after a long day work. Your mind is also left refreshed and cool, no doubt making this strain a great option for those who are suffering from anxiety. Having your very own garden as a source for your medicine will serve you really well.
Taste and Aroma of NYC Diesel Autoflower
There are a number of interesting tones that you can expect with the taste and aroma of the NYC Diesel Autoflower variety. It is both sweet and pungent, easily creeping in your senses and allowing you to experience a pleasurable sensation. This autoflowering version is as exciting as its pure counterpart. It even introduces notes of fuel and citrus, providing that full-body and relaxing stone. Whether you are a newbie or an expert with marijuana varieties, you will surely love the NYC Diesel Autoflower strain because of its taste and aroma.
Growing NYC Diesel Autoflower
The plants of this strain grow into majestic branches, with leaves that are big in just a few short weeks. Flowering time usually reaches 7 weeks. The fat buds glisten with trichome crystals, oozing with some delicious resin. Waiting for all of these to appear is surely worth the wait. You can expect to have up to 150 grams of these dank buds indoors, and up to 250 grams when growing outdoors. Whether you are growing for yourself, or commercially, you will surely enjoy the benefits of the NYC Diesel Autoflower strain.
| Breeder/Seed Bank | CropKingSeeds |
| --- | --- |
| Type | Indoor |
| Growing | Easy to Moderate |
| | |
| | |
| | |
| | |