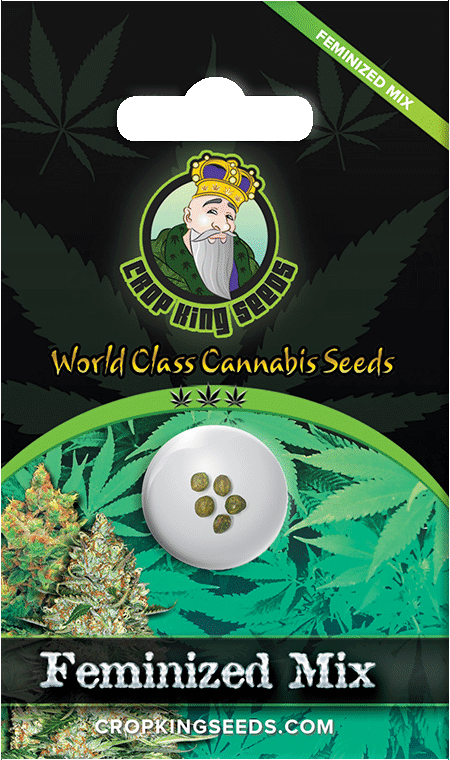 Feminized Mixed Seeds
$120.00 – $240.00
This mixed pack of feminized strains is perfect for the indecisive grower. We've included all the classic strains along with Crop King's unique breeds in one pack of 10 or 25 seeds. Enjoy a little bit of everything in your garden – sativa, indica, and hybrid. These are high yielding feminized strains suitable for indoor or outdoor growing. Plants will vary in height; from tall and thin sativas to short and bushy indicas, with hybrids somewhere in between. The levels of THC and CBD will vary from low to moderate to high. It's the perfect opportunity for you to try all of Crop King Seeds feminized strains in one pack.
Pack Size
Price
Quantity

10 Seeds Pack

$

120.00

25 Seeds Pack

$

240.00
Description
CHARACTERISTICS
Reviews (0)
Description
This is a pack of randomly selected and unlabeled feminized seeds from our product line, so we can't guarantee any specific strain will be included. What we are sure of is that you will be getting nothing but the densest and fattest buds come harvest time.
Flowering period, difficulty, and effects will vary plant to plant. The growing difficulty will range from 'very easy' to 'moderate', but we keep out any that are 'expert' levels or higher. Yields can be anywhere from 450g to 500g per plant, though that quantity depends on the growing area and medium.
THC levels range from 12% to 25%, while CBD percentage can be anywhere from a low 0.10% to a high 3.50%. The effects can be relaxing, calming, stimulating, medicinal, or downright mind blowing. If you can't make up your mind but are ready to be surprised, then get yourself one of these feminized seed packs.
| Breeder/Seed Bank | CropKingSeeds |
| --- | --- |
| Type | Indoor/Outdoor |
| Growing | Moderate |
| Ernst Handel | Roland Mendel |
| Island Trading | Helen Bennett |
| Laughing Bacchus Winecellars | Yoshi Tannamuri |
| Magazzini Alimentari Riuniti | Giovanni Rovelli |